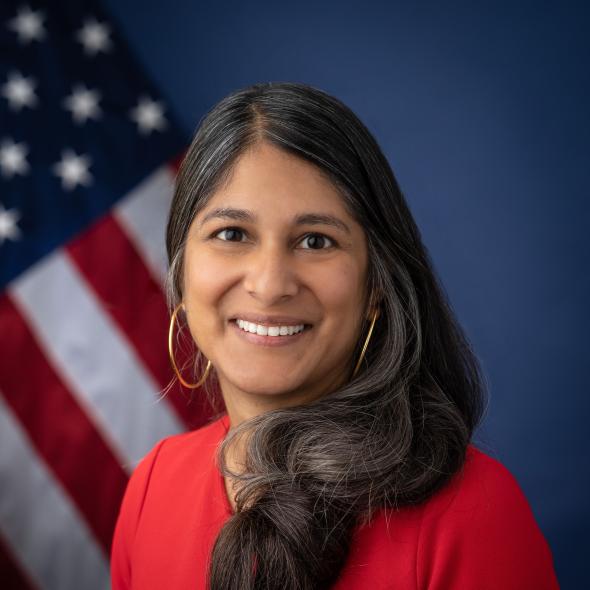 Neema Singh Guliani
Neema Singh Guliani is the Deputy Assistant Secretary (DAS) for Services. In this role, she directs the U.S. Department of Commerce's efforts to create the policy conditions for U.S. digital, financial, supply chain and other services industries to compete around the world.
Guliani is a lawyer and policy expert who has worked on issues at the intersection of national security, economics, and civil rights. Before joining ITA, she served at Twitter as Head of National Security, Democracy, and Civil Rights Public Policy for the Americas, where she led development of policy and strategy in the U.S. for surveillance, the open internet, and civil rights. In 2022, Guliani also taught as an adjunct professor at the University of North Carolina School of Law, where she designed and taught a course titled "Technology and Civil Rights."
Prior to her time at Twitter, Guliani served as Senior Legislative Counsel at the American Civil Liberties Union, where she led several initiatives related to surveillance and technology issues. She also served as a political appointee in the Chief of Staff's Office at the Department of Homeland Security Office of the Secretary, an adjudicator at the USDA Office of the Assistant Secretary for Civil Rights, and a Counsel for the Oversight and Government Reform Committee for the U.S. House of Representatives.
Guliani is a 2018 Truman National Security Fellow and a member of the Florida Bar. She has a Juris Doctorate from Harvard Law School and a Bachelor of Arts in international relations with a focus on global security from Brown University.