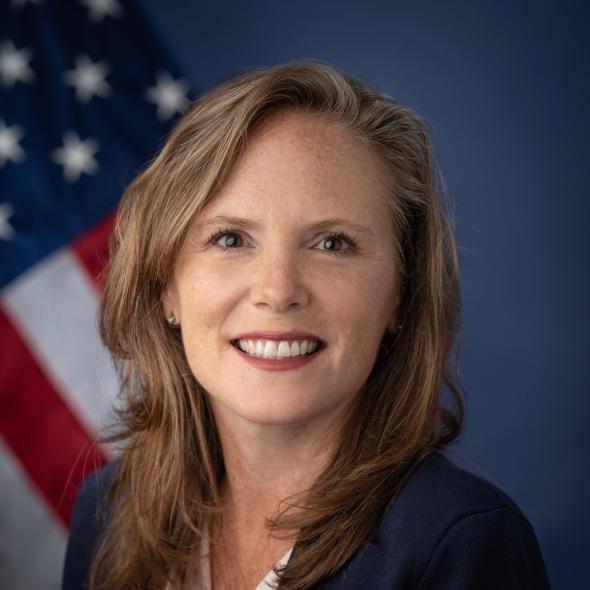 Heather Evans
Heather Evans is the Deputy Assistant Secretary for Manufacturing for the International Trade Administration. In this role, she directs the U.S. Department of Commerce's efforts to advance the global competitiveness of manufacturing industries through the development and execution of international trade and investment policies and promotion strategies. She oversees the Office of Transportation and Machinery, the Office of Energy and Environmental Industries, and the Office of Health and Information Technology. 
Evans joined ITA after working at the National Institute of Standards and Technology (NIST) for over a decade. Most recently, she served as Director of the NIST Program Coordination Office in the Office of the Under Secretary, leading efforts on policy, budget, and strategy issues for the institute. Before that, she served as NIST Liaison and Senior Technology Advisor in the Office of Policy and Strategic Planning at Commerce, where she led efforts on international standards, cybersecurity, and emerging technologies including artificial intelligence for the Department. Heather was part of the initial team at NIST that built the foundation of the National Network for Manufacturing Innovation, now known as Manufacturing USA. She led many change initiatives across NIST, including data-driven studies and staff engagements to address inequity, which led to the establishment of a new NIST-wide office of diversity, equity, and inclusion. As a 2008-2010 AAAS Science and Technology Policy fellow in the National Nanotechnology Coordination Office and the White House Office of Science and Technology Policy, she was part of the Emerging Technologies Interagency Policy Committee that developed principles for the oversight and regulation of emerging technologies, including nanotechnology and synthetic biology.   
Evans was a Humboldt Postdoctoral Research Fellow in Germany and holds a doctorate in materials science from the University of California Santa Barbara and bachelor's degree in physics from Macalester College in St. Paul, Minnesota. She and her husband Chris, another science and technology policy wonk, live in Alexandria, VA.