Minneapolis Firm Finds Success in Japan and Taiwan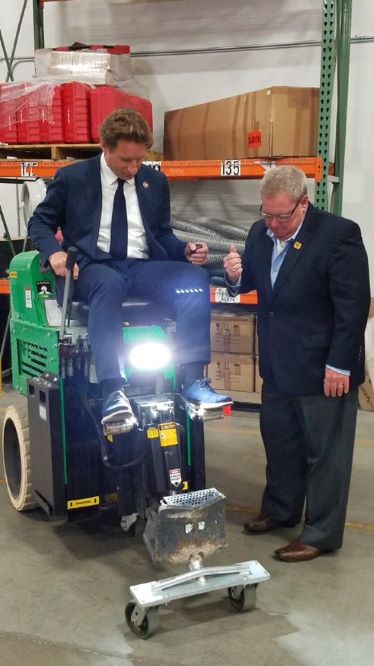 National Flooring Equipment found success in Japan and Taiwan with the Help of the U.S. Commercial Service
National Flooring Equipment (NFE) is a Minneapolis, Minnesota machinery company that manufactures specialized construction equipment for concrete surface preparation and processing. When NFE was looking to find distributors in both Taiwan and Japan, the U.S. Commercial Service (CS) in Minneapolis connected them with colleagues at CS Taipei and CS Osaka offices, who worked alongside NFE to achieve this goal. The U.S. Commercial Service provided the client with an Initial Market Check (IMC) report, research on distributors, and the Gold Key Service to meet with local trading companies. Through these services, NFE was able to find the right distributors for them in Taiwan and Japan!
On August 13, 2019, Representative Dean Phillips (MN-3), shown here receiving a demo, presented the company with an Export Achievement Award for its success in international markets. 
"Due to hard work and dedication by the U.S. Commercial Service, we were able to meet with several organizations that we believe will turn into fruitful, long lasting partnerships. Our success would not have been possible without their exceptional work ethic and dedication."
Jake Sinna, Vice President of Sales, National Flooring Equipment, Inc.