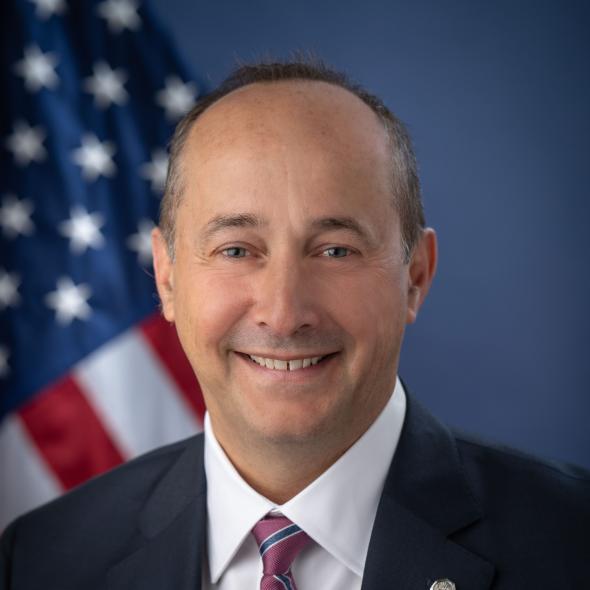 Thomas Bruns
Thomas Bruns is the Deputy Assistant Secretary for the Middle East and Africa. In this role, he directs the International Trade Administration's efforts to increase U.S. market access and commercial partnerships in a region undergoing historic transformation and economic growth.
Bruns is a career member of the Senior Foreign Service, most recently serving as the Regional Senior Commercial Officer for the Gulf at the U.S. Embassy in Abu Dhabi, United Arab Emirates. In this role, he oversaw the operations of four offices across the UAE, Qatar, Kuwait, and Oman. His previous posts included serving as: Deputy Senior Commercial Officer at the U.S. Embassy in Moscow, Russia; Senior Commercial Officer in Sofia, Bulgaria; Deputy Senior Commercial Officer in Ankara, Turkey; and in Washington, D.C. as a senior trade specialist in ITA's Office of Russia, Ukraine, and Eurasia.
Prior to joining the U.S. Department of Commerce, Bruns held positions in the private sector, including serving as regional director and sales executive of Hilti, and sales and marketing for Group PSA in France. Earlier in his career, he served as a Peace Corps Volunteer, Associate Peace Corps Director, and independent consultant for UNESCO and USAID in West Africa.
Bruns earned his BA from the University of Virginia and his MBA from the Thunderbird School of Global Management and is a member of the Beta Gamma Sigma honor society for collegiate schools of business. He is bilingual in French and English, and has studied Bulgarian, Russian, Turkish, and the West African languages of Bambara and Wolof.