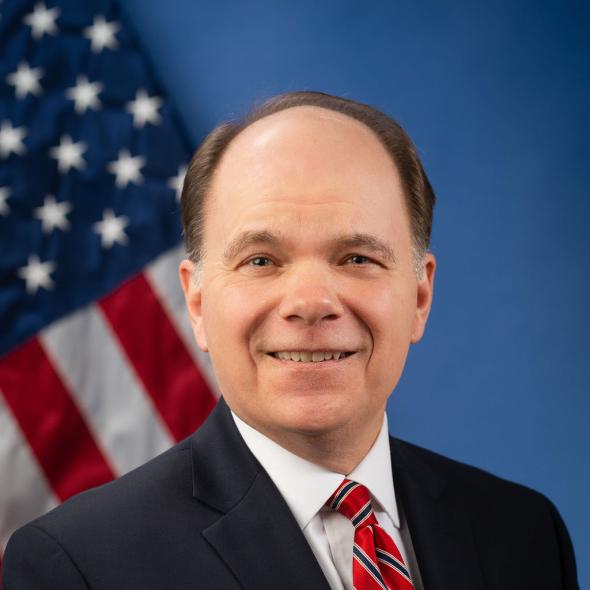 Dale N. Tasharski
Dale Tasharski is Deputy Director General of the U.S. and Foreign Commercial Service, currently performing the non-exclusive functions and duties of the Director General for the U.S. and Foreign Commercial Service and the Assistant Secretary for Global Markets. In this role, Dale oversees the U.S. government's premier export promotion agency, managing a network of more than 225 domestic and overseas trade offices, and a staff of more than 1,450 trade professionals. Dale previously served as the Deputy Assistant Secretary for Europe. In that role, he directed the Department's efforts to formulate trade policy and solve market access issues facing U.S. firms seeking to sustain and expand their business operations in Europe and Eurasia.
Dale is a career Senior Foreign Service Officer with the personal rank of Minister-Counselor, and has more than three decades of experience bringing U.S. and global businesses together. He has served in several positions overseas, in the U.S. field, and in headquarters. Before his current assignment in Washington, he was Minister-Counselor for Commercial Affairs at the U.S. Embassy in Berlin, Germany, as well as Regional Senior Commercial Officer for central Europe (2012-17). Prior assignments included Commercial Counselor at the U.S. Embassy in New Delhi, India (2006-11), Senior Commercial Officer at the U.S. Embassy in Dublin, Ireland (2002-06), and Senior Advisor for Commercial Service Officer career development and overseas assignments in Washington, DC (1999-2002). Prior to this, he served in Commercial Attaché positions in Tokyo, Japan (1995-99) and Warsaw, Poland (1990-94). Dale began his career as an international trade specialist in the Commerce Department's field offices in Greensboro, North Carolina (1985-86) and Nashville, Tennessee (1986-90).
Dale was born and raised near Chicago, Illinois. He holds a Bachelor's Degree with Highest Honors in International Studies from the University of North Carolina at Chapel Hill, and a Master's in Public and International Affairs from the University of Pittsburgh.