ES_eCommerce_Page
An eCommerce/digital strategy is cited as the #1 business consideration for growing online overseas sales. This process is not a technology project; it is a customer acquisition tool and what your customers want online. Check out our five part video series on eCommerce!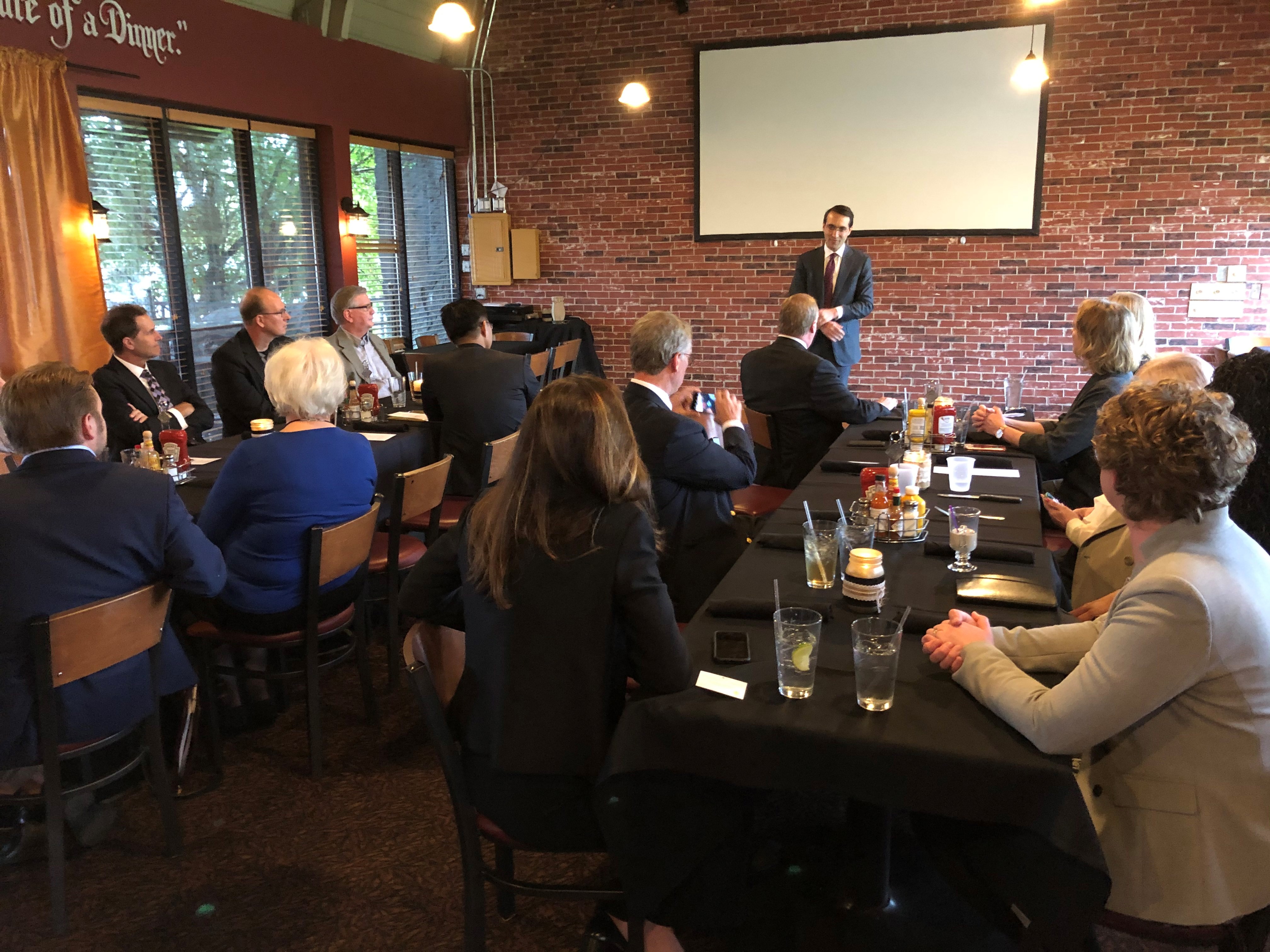 Business Service Provider Directory
If you have a website you are doing eCommerce- the question is how well are you doing it? Know these basic terms.
What is eCommerce? 
eCommerce is a sales channel that crosses all industries that sell or promote brand awareness online and is considered a sales channel and part of a businesses' digital strategy.  
What is "Cross-Border eCommerce"? 
Cross-border eCommerce is international eCommerce. It is literally "selling across a border using eCommerce," as opposed to domestic eCommerce transactions. 

Business to business (B2B) eCommerce transactions are made between businesses, where a supplier sells in bulk. Business to consumer (B2C) is where a business sells its product directly to a customer, either directly from a company website or an online marketplace. 
What is an eCommerce Marketplace? 
A third-party website that hosts vendor pages as online storefronts and transactions are processed by the marketplace service provider/operator. It is part of an eCommerce sales channel mix, along with website, social media, and in-country partner/distributor online presence. 
What is an eCommerce Platform? 
A series of software technologies that are integrated into a business's website. It allows a business to solicit products or services from their website to complete the sales cycle. 
What is a Digital Strategy? 
A digital strategy addresses the basic needs of a business required to succeed in cross-border eCommerce sales channels.  Look around for reputable and helpful resources to help you understand abstract concepts such as internationalization/globalization from a business perspective as you work towards increasing your ROI from the eCommerce sales channel. 
 
Understanding the eCommerce Transaction Process will help you to make the connection between the software and service providers that support it, however your eCommerce Sales Channel Mix may contain more than just your website as a channel for product/brand marketing and sales. 
eCommerce Payments 
Online Payment services can help with gateways, shopping carts, VAT tax, and even foreign exchange rates. 
 
Credit cards are still the primary method of payment online by default - both domestically and internationally. However recent improvements in cybersecurity technology has seen wider use abroad of ewallets and consumer accounts due to the perception of increased risk of transaction fraud with online card payments through payment gateways. Preferences for payment method vary by country and geography-- such as in China where there are more people with mobile phones than active bank accounts-- so make sure to understand how and where purchases are being made in your target markets. 
 
A payment gateway is a software application set up as a part of your website (eCommerce software platform) to enable customers and other businesses to complete transactions and is responsible for authorizing and processing payments and securely delivering payments to accounts. Payment gateways require merchant accounts, whereby the gateway authorizes the payment to the merchant account. 
eCommerce Payment Gateway Versus Merchant Account 
Merchant accounts and payment gateways are different services, but both are essential for eCommerce and are often bundled together. A merchant account is simply a bank account that allows you to accept payments from credit and debit cards. Merchant accounts temporarily hold the funds of the transaction within the merchant account (normally for a few days) until they are permanently transferred to your business's bank account. A merchant account serves the same function in a brick-and-mortar store as it does online. Payment gateways allow credit and debit card payments to take place securely and rapidly over the Internet. Both a merchant account and a payment gateway are needed to make online payments.  
What about online international payment fraud-prevention? 
Selling through cross-border eCommerce inherently raises your fraud risk. All payment gateways have data encryption, however some countries like Singapore require a second layer of data encryption software (ie: CVV2, 3D Secure) for all online transitions in order to prevent fraud.  It is important to go with a well-known payment gateway with a strong reputation for security, as overseas consumers need to feel their payments and transactions are secure.   
What e-payment types are commonly accepted in your target market? 
Do your research and ask local partners or in-country consultants what payment methods are preferred so you can make sure your payment processing software accommodates your target market.  Before you enter into an agreement with any payment processor, it is important to understand how they handle payment disputes and fraudulent transactions.   
Are you ready to receive payment in the currency of the foreign buyer? 
If you do decide to take payment in the local currency, keep in mind the potential for wild fluctuations in exchange rates, depending upon the market. Also, some markets (eg: Asia Pacific) have high cross-border eCommerce transaction fee rates, so you need to make sure that your payment gateway is able to process these sort of transactions as well.   
Is a local legal entity required for payment processing? 
Some overseas markets have established that in order to complete financial transactions, or conduct business altogether, you must establish your company in-market. This can be for multiple jurisdictional reasons, such as local tax revenue generation for example. Avoid a rigid one-size-fits-all approach towards entering overseas markets, and be adaptable to rule changes in the future, as with local legal entities.   
If using an online marketplace, where do responsibilities begin and end with regards to tax payments on revenue generated in the overseas market? 
An online marketplace is an attractive market-entry option, especially if you want to get visibility in a country without investing much time or money.  If using an online marketplace, either figure in the individual product VAT into the product sales price featured on the marketplace, or find out if the marketplace will take on the responsibility of collecting and remitting VAT.  Paying attention to details such as duties and taxes can and will have a serious effect on your brand if the consumer is inconvenienced while attempting to purchase from you.   
eCommerce Shipping 
Once your product has been purchased online, you must determine the best way to get the product to the consumer. Many small and new businesses choose the "do it yourself" (DIY) method when it comes to shipping and fulfillment. This tends to be more work, and errors or oversight can occur. 
Here are some of the key considerations outlined for eCommerce shipping: 
Shipping Price. Not surprisingly, the more your site users are charged for shipping, the less likely they are to want to purchase your product. Online "shopping cart abandonment" is often caused by unexpectedly high shipping prices. In a study done by United Parcel Service (UPS,) 55 percent of shoppers abandoned their shopping carts before purchasing because shipping and handling costs were too high. 
Warehousing. If you currently have a warehouse or storage facility for brick-and-mortar sales, then the same facility may work for storage. However, keep in mind that B2B transactions often involve bulk quantities, so once you are involved in B2B eCommerce, you may need to expand your space or look for other options. 
Packaging Cost. Another way to minimize shipping costs is to use lighter packaging. Shipments are most often paid for by size or weight.  
Tracking and Insuring. Insurance is often offered by a third party. Research the insurer and inform the customer about the insurer. Major carriers also include some form of shipping insurance with their service as a guarantee. 
Selecting a Carrier. The major carriers used for cross-border eCommerce tend to be FedEx, UPS, and USPS.  Along with selecting a suitable carrier, you should include the name of the carrier on your checkout page and when the customer or business can expect the package. 
Shipping Internationally. Tariffs, taxes, or duties may need to be paid for items to enter or leave a country. A good website to find accurate estimates on international duties and taxes is https://www.export.customsinfo.com. The customer or business that purchases the product will be responsible for paying those fees upon delivery, and it is a good idea to give customers notice of the fees, and include the proper forms and documents with the shipment to ensure that shipment will clear customs in the destination country.  
Integrating Software. eCommerce software service providers such as shopping carts and payment gateways can seamlessly integrate into your eCommerce software platform and can provide you a one-stop shop for shipping needs. They will track, invoice, label, document, integrate with multiple carriers for postage printing, and even generate data reports on shipments for your business. Those services usually charge a flat monthly rate (usually $25–$300 depending on the number of shipments your business makes) and can be accessed from your eCommerce platform's list of plugins and extensions. Be sure to shop around the various services offered as many have special features, pros, and cons. 
Have you considered international fulfillment and shipping tools & services? 
A fulfillment service provider may help you with managing online order shipments. When an order is made on your website, your fulfillment service provider will either pick up the product from your business or will have it already stored in its warehouse. From there the fulfillment service provider will pack, complete shipping paperwork, and works with the shipping provider to deliver it to the customer. Shipping cross-border eCommerce goods is the same process as international shipments and export shipments.   
Would your customers wait an extra week or more for your product to be delivered? 
Provide shipping terms and conditions on your website for international clients, so that customers know there may be additional costs and shipping times due to the cross-border nature of the transaction. 
Are you familiar with Incoterms? 
You should be familiar with Incoterms  (International Commercial Terms) as they will play a direct role in the landed cost your consumer pays.  Incoterms are the same for traditional exporting as they are for cross-border eCommerce. 
Are your shipping terms and costs clearly explained and identified?   
Clearly state the shipping provider, terms, conditions, options, timelines and costs associated with international shipping and leave no surprises for your customer.  
eCommerce Regulations and Taxes? 
U.S. Export Regulations still apply to eCommerce transactions as these sales are not legally distinct from traditional point-of-sale transactions. 
General Data Protection Regulation (GDPR) & EU-U.S. Privacy Shield - All U.S. companies who are exporting to the European Union, marketing to EU citizens, or addressing inquiries from EU citizens for their products or services must comply with EU data privacy rules. The GDPR took effect May 25, 2018 and applies to all industry sectors.
Understand eCommerce Sales Channels
---
Choose an eCommerce Sales Channel
Identify eCommerce Market Opportunities
eCommerce Market Intelligence
Find industry and country information on Business to Business (B2B) and Business to Consumer (B2C) cross-border eCommerce such as digital consumer trends and forecasts from our Country Commercial Guides (CCGs).