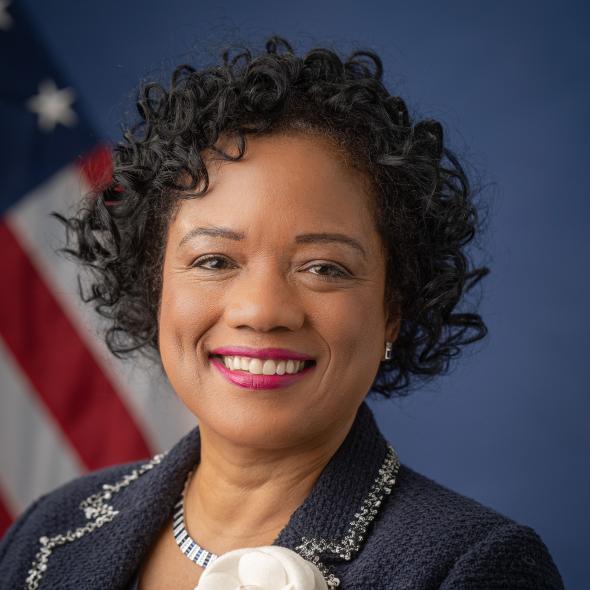 Camille Richardson
As Deputy Assistant Secretary for the Middle East and Africa (MEA), Camille Richardson directs the International Trade Administration's efforts to increase U.S. market access and commercial partnerships in a region undergoing historic transformation and economic growth. She leads a headquarters team of desk officers in Washington and a network of 18 commercial posts staffed by Foreign Service Officers and local staff across North Africa and the Levant, Sub-Saharan Africa, and the Gulf. Under her leadership, this team helps American companies succeed in some of the fastest-growing and most challenging economies in the world to do business. MEA is home to about 1.4 billion people with a disproportionally high number of the population under the age of 35, making it a key region of focus for the President's Global Infrastructure Initiative with a significant potential for growth, innovation, and partnership.  
Richardson began her career in government with ITA in 1993. She became an accredited diplomat with the U.S. Commercial Service in 1998 and served six successive tours of duty in Miami, FL; Buenos Aires, Argentina; Rio de Janeiro, Brazil; Nairobi, Kenya; Mumbai, India, and Sao Paulo, Brazil facilitating commercial partnerships, trade missions and negotiations between U.S. and local companies that led to billions of dollars in export deals. A tenured Senior Foreign Service officer since 2017, Richardson recently earned the title of Minister Counselor for Commercial Affairs – the third woman of color in the history of the U.S. Commercial Service to do so, and the first to become a Deputy Assistant Secretary. She is also a certified professional and award-winning coach for ITA, recently earning a silver medal from the agency.
A longtime advocate for women's economic empowerment, Richardson in 2021 launched the Women Empowered Leave Legacies through Trade and Investment (WELLTI) initiative – a flagship program for the Department of Commerce which in its inaugural year connected over 800 businesswomen and entrepreneurs from the United States with those in MEA. Through this program, participants have increased access to market information, new tools to strengthen capacity building, and expanded networks needed to recover faster from the devastating impact of the COVID-19 pandemic and the ensuing Russia/Ukraine war.
A native of Washington, D.C., Richardson earned a Bachelor of Arts in international relations from Brown University in 1989, and a Master of Arts in international relations from Johns Hopkins/SAIS in 1993. She speaks Portuguese, Spanish and Portunhol (a mixture of the first two languages) along with a bit of Hindi, Swahili and French.